Lively Lady was built in Calcutta in 1948 by her owner S.J.P. Cambridge who had made a study of wooden yacht design during the war. He was assisted throughout the project by two Indian cabinetmakers.
During the construction, parts of the design were changed. Grown frames were considered more suitable for the local labour and facilities than the specified steamed timbers. These changes gave her incredible strength and stability of construction.
Below decks Lively Lady could be described as severe. She has unpainted teak joinerwork and is basic by the standards of yachts today. Narrow settees on either side of the saloon have pilot berths outboard of them and the forward cabin has two built berths. The galley is on the port side and to starboard is a quarter berth with the chart table above it. Severe she may be but, with all that teak, she is solid and trustworthy.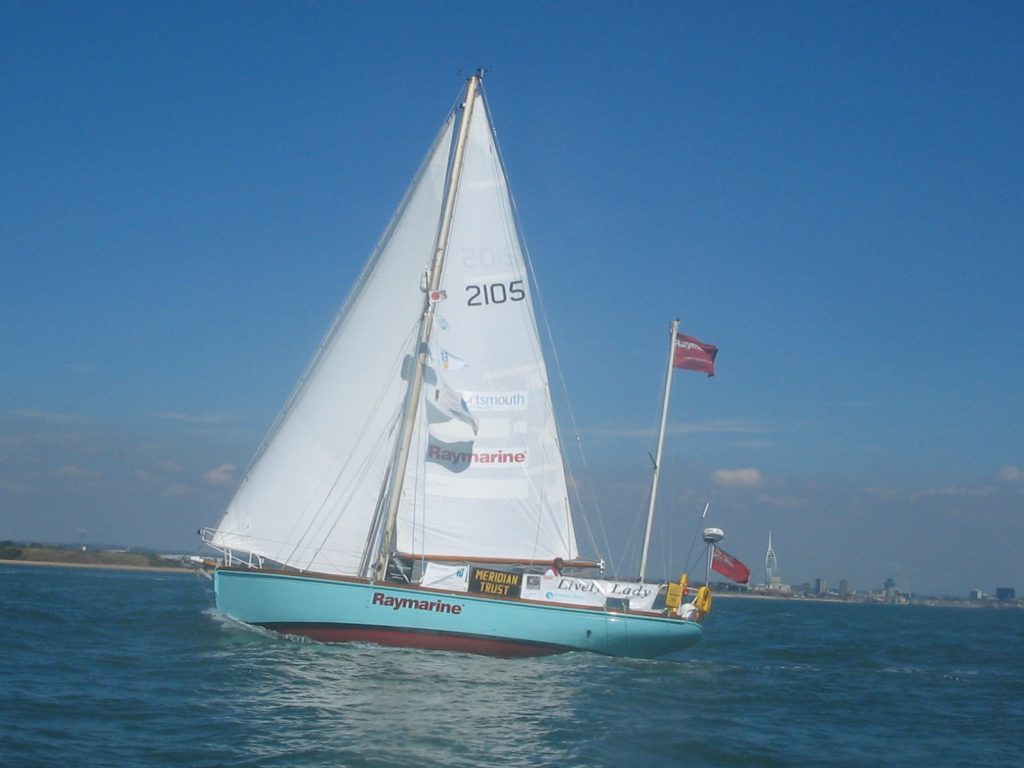 Sir Alec Rose bought Lively Lady from Mr S.J.P. Cambridge in the 1963 with the aim of taking part in the 1964 Single-handed Transatlantic Race. Sea trials took place in February 1964 and, after a few adjustments, despite the lack of practice Sir Alec made it to the start line on May 23rd and after 36 days at sea he crossed the finish line in fourth place. After that, Sir Alec scouted around for ideas for another single-handed voyage and when Sir Francis Chichester announced his plans for sailing to Australia, Sir Alec decided to make a match of it and to visit his son in Australia while he was at it.
Thanks to the generosity of a group of Portsmouth businessmen he was able to re-fit the yacht. Sir Alec left Portsmouth on August 7th 1966 but damage to Lively Lady in the first days of the journey meant he had to put in to Plymouth for repairs and then watch as Chichester set off from Plymouth without him on August 27th.
For the second attempt, July 16th 1967 was the chosen start date. Five months later they arrived in Melbourne. Sir Alec set about readying the boat for the remainder of the trip and January 14th 1968 was set as the return date. On July 4th 1968 Sir Alec Rose and Lively Lady sailed back into Portsmouth to a hero's welcome. Thousands had crowded onto the beach at Southsea to catch a glimpse of them. From Southsea it was on to a civic reception at the Guildhall and then home. Crowds lined the streets along the way as all of Portsmouth came out to welcome Sir Alec home.